3D Printing Colorado has teamed with Aleph Objects, Inc., the maker of the Lulzbot 3D Printers, to offer small to large volume and bridge manufacturing 3d printing services for professionals. With our fleet of 3D Printers ready for a single part to large volume production runs our HIVE of printers can produce 100's of parts a day – 365 days a year! For many types of products and parts, 3D printing might be the fast, affordable, and flexible supply chain you're looking for. Request a Quote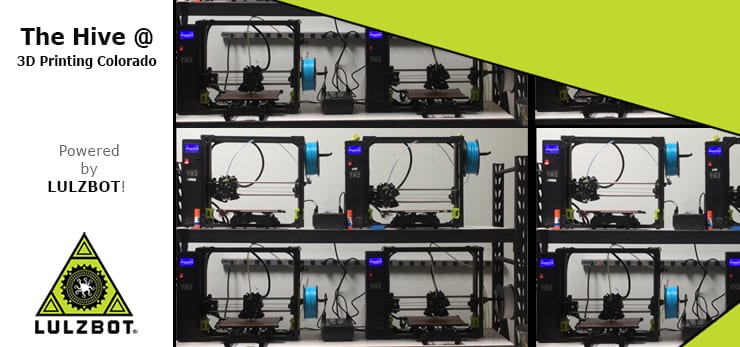 The HIVE @ 3D Printing Colorado Enables:
Large volume 3D Printing
Large Format models can be printed and assembled in days vs. weeks
Faster iterations or modifications to prototypes and/or end-use parts
Additive manufacturing allows for Light-weighting; 3D printing allows the ability to change the fill of parts from almost fully dense (100% infill), to no fill at all (0% or 1% infill)
Additive manufacturing can produce complex geometries that aren't possible in other processes – in bulk
Open new revenue streams by offering customization and 1-off orders
3D printing has gained lots of traction in short-run manufacturing for plastic production parts made in small to medium quantities where traditional tooling isn't up to speed. The cost for traditional manufacturing can prevent a person or company from launching a new product – 3D Printing is changing this with the reduced costs of end-use production printing.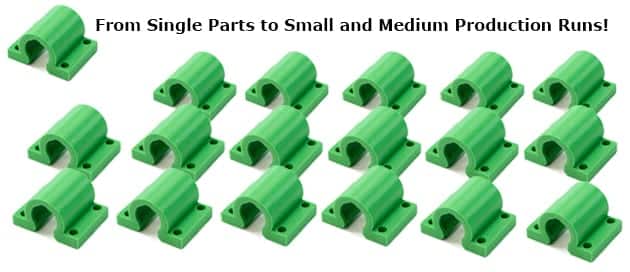 Bridge Manufacturing
3D printing can be used to bridge the gaps between product launch, generating profit, and full-scale manufacturing of your product. Initial tooling for injection molding can range from $5000 to well above $50,000 per mold, these costs can be exorbitant for small run production and startups. We can help you produce the first small series of products or end-use parts to launch your concept to market. This allows you and your product to start producing the investment capital, revenue stream, and industry demand for the product, then the investment can be made in tooling for traditional manufacturing leveraging everything you've learned about your product from bridge manufacturing.
Small Run Manufacturing
For small series production runs, 3D printing is a faster and more economical option than traditional manufacturing. Boeing, Ford, Tesla, and G.E. are currently using 3D printed end use parts in real-world applications.
LulzBot is a registered trademark of Aleph Objects, Inc.