Monthly 3D Printing and 3D Scanning Webinars
Join our Webinar Email List to get all event invites from 3D Printing Colorado.
---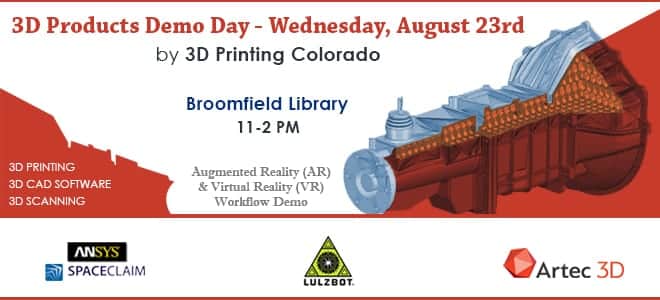 Join us at the: Broomfield Public Library
2nd Floor in the Eisenhower Meeting Room
3 Community Park Rd, Broomfield, CO 80020
Demos at 11:00 AM, 12:00 PM and 1:00 PM
Featuring:
3D Scanning Demo By Artec 3D

Artec offers cutting edge 3D Scanners and Software for rapid 3D digitization of real world objects. Quickly and easily, capture geometries to accelerate workflow in Computer Aided Design, Reverse Engineering, Design Visualization and so much more. Learn More

Rapid Reverse Engineering and Design With SpaceClaim

Technology should make your job easier, not more complicated. SpaceClaim enables anyone to create, edit, or repair geometry without worrying about underlying technology. With SpaceClaim, working with 3D modeling software becomes fast, easy, flexible, and rewarding, no matter where in the workflow you need it or where you got your files from. Learn More



Local 3D Printing and Rapid Prototyping Specialists

Applications Engineers from multiple 3D companies will be on-site to answer questions and to demonstrate the power of these 3D tools and the impacts they are having on our world including Augmented Reality (AR) and Virtual Reality (VR).

Refreshments & Snacks provided to keep energy levels up!