---
Geomagic for SOLIDWORKS is a bridge between physical parts and your CAD environment enabling rapid design, engineering, and production. Improve upon, learn from, customize and reuse designs that surround you every day. Bring physical objects into SOLIDWORKS and design around existing parts for perfect fits.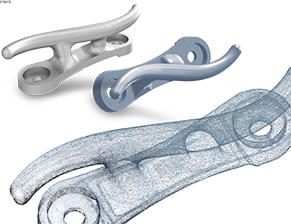 Geomagic for SOLIDWORKS is the industry's most complete integrated Scan-to-SOLIDWORKS model solution. Reduce the time required to build complex 3D models of real world objects by directly scanning or importing scan data into SOLIDWORKS. The advanced, automated wizards quickly and easily create accurate sketches, surfaces or feature-based editable solid parts inside SOLIDWORKS. 
---
Download Geomagic for SOLIDWORKS – PDF         Request a Free Trial         Schedule a Demo
---
Geomagic for SOLIDWORKS Feature List
Geomagic® for SOLIDWORKS® delivers the seamless ability to 3D scan directly into SOLIDWORKS and use integrated industry proven toolsets to create solid models directly and accurately in your design environment.
Functionality

Direct Scanner Integration with Geomagic Capture and Other Popular 3D Scanners

Scan directly inside SOLIDWORKS
Probe features and sketches

Point Cloud Processing

Fast, automated processing

Polygonal Surface Creation

Mesh construction from point cloud or merging of multiple meshes

Polygon Processing Tools

Decimation
Smoothing
Noise reduction
Hole filling

Powerful Alignment Tools

Scan to alignments
Align your mesh to World Coordinate System
Picked point alignment for multiple scan data sets

Automatic Surfacing

Automatic conversion of both organic and geometric objects to CAD solid

Mesh Cross Sectioning

Automatic curve and sketch creations

Intuitive Smart Selection Tools from Mesh

Extrude
Revolve
Sweep
Freeform surface
Primitive feature fitting

Intuitive Smart Selection Tools for Selecting Polygon Groups

Region Grouping Tools for Detailed Mesh Segmentation

Pre-processing step for intelligent feature extraction

3D Comparison with Deviation Analysis

Compare any time between mesh object and CAD object
---
Download Geomagic for SOLIDWORKS – PDF         Request a Free Trial         Schedule a Demo
---