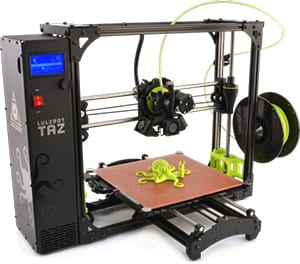 Engineers, designers, educators, and makers agree: The LulzBot® TAZ 6 is the most reliable, easiest-to-use desktop 3D printer ever, featuring innovative self-leveling and self-cleaning, and a modular tool head design for flexible and multi-material upgrades. With proven 3D printing technology and one of the largest print volumes in its class, the LulzBot TAZ 6 is ready to work.
3D printing is more reliable than ever with the integrated automatic bed leveling system, all metal LulzBot v2 Hot End, and heated PEI print surface.  With the all-metal hot end, you can take advantage of the cutting edge market for new materials. Perfect for both large and small objects, the heated PEI build surface keeps your 3D printed objects in place when hot and releases when cool. With Cura LulzBot Edition, you have hundreds of quick print profiles built in for seamless 3D printing.
Buy Now or call today to place your order! (303) 466-0900
Recommended Use
Professional
Industrial
Commercial Prototyping and Fabrication
Higher Education
Research
Build Volume: 280 mm x 280 mm x 250 mm (11 in x 11 in x 9.8 in)
Filament Diameter: 3mm
Nozzle Diameter: 0.50mm
Layer Thickness (Software Configurable) From: 0.05mm to 0.50mm (0.002in – 0.020in)
Free Software & Open Source Hardware – Made in Colorado
Warranty & Support: 1-Year with 1-year tech support
Self Leveling & Nozzle Self Cleaning
Tetherless Printing via LCD & SD Card
Dual Extruder Compatible
All-Metal LulzBot v2 Hot End
High-Performance PEI Print Surface
Details & More Info:
Print Surface: Heated borosilicate glass bed covered with PEI print surface. Separate bed preparation is recommended when printing with flexible filaments, which can be found on the Flexystruder and FlexyDually Tool Head pages respectively.
Print Area: 280 mm x 280 mm x 250 mm (11.02 in x 11.02 in x 9.8 in)
Print Volume: 19,600 cm3 (1,185 in3) of usable space
Top Print Speed: 200 mm/sec (7.9 in/sec)
Average Print Speed: 30 – 50 mm/sec (1.18 – 1.97in) Using default nGen profile
Layer Thickness with 0.5 mm nozzle: 0.050 mm to 0.5 mm (0.002 in – 0.02 in)
Capable Materials: ABS, PLA, HIPS, PVA, wood filled filaments, Polyester (Tritan), PETT, bronze, copper, stainless steel-filled filaments, Polycarbonate, Nylon, PETG, conductive PLA and ABS, UV luminescent filaments, PCTPE, PC-ABS, Alloy 910, and more every day.
Discouraged Materials: 3D printing with carbon fiber filaments is not recommended at this time because carbon fiber filaments can degrade both the nozzle and hot end of the LulzBot TAZ 6 Tool Head.
Usable Filament Sizes: standard 3 mm (0.1 in)
Multi-Software Compatible: Freedom to use any number of 3D printing software programs, Cura LulzBot Edition ships standard! Other compatible Free Software options include OctoPrint, BotQueue, Slic3r, Printrun, MatterControl, and many more.
Warranty and Support
30-day money-back guarantee
One-year warranty
One-year customer support
Additional 1, 2, or 3 Year Extended Warranty Available!
Physical Dimensions
Overall Dimensions: 66 cm x 52 cm x 52 cm (26 in x 20.47 in x 20.47 in)
Operating Dimensions: 82 cm x 63 cm x 52 cm (32.28 in x 24.8 in x 20.47 in)
Weight: 19.5 Kg (43 Lb)
Electrical
Power Requirements: 100 – 240 VAC
Power Output: 24 volt 500 watts 21 amp
Average Current Draw: 5.3 Amps (US), 2.65 Amps (EU)
Example Power Consumption: ABS
0.239kWh, 30-minute print
0.450 kWh, 60-minute print
Maximum Draw: 625 watts
Operating Temperature Range
Maximum Tool Head Temperature: 300°C (572°F)
Maximum Heated Bed Temperature: 120°C (248°F)
Certifications: CE. FCC, WEE
Your TAZ 6 3D printer package includes:
LulzBot® TAZ 6 3D printer with integrated 24V power supply
30-day money-back guarantee
One-year warranty and support
LulzBot® Hexagon Hot End Tool Head with 0.50mm Nozzle
Quick Setup Guide
4GB SD Card
Filament Feed tube
Toolkit bag
15 Piece Metric Hex Key Set
Pliers, Needle Nose
Tweezers
Standard Precision Knife
Dental Pick
Part Removal Knife (clam knife)
Metric Ruler