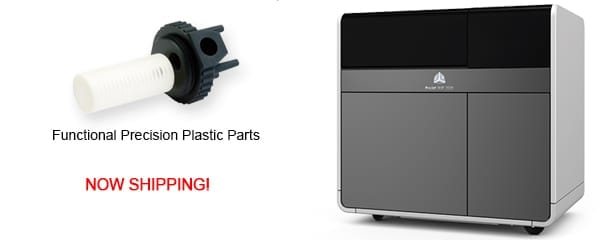 Combining professional grade 3D printing capabilities with an affordable, office-friendly footprint and easy part processing, the ProJet MJP 2500 Series is designed to enable a broader range of professionals to create precision parts without leaving their workplace.
Functional precision plastic parts from 3D MultiJet Printing (MJP)
Print precision parts in your office
The newest members of the ProJet family, the MJP 2500 and 2500 Plus are the most affordable printers, yet still offer higher fidelity and more accurate prints than other printers costing up to ten times more.
PROFESSIONAL PRODUCTIVITY
Step up from desktop 3D printers to 24/7 usability and higher production capacity.
AFFORDABLE PRICE
MJP quality has never been so accessible. You no longer have to compromise on part fidelity to get an affordable 3D printer for your office.
EXCEPTIONAL ELASTOMERIC PERFOMANCE
VisiJet® M2 materials are engineered for performance. The MJP 2500 Plus can print elastomeric parts with amazing 650% elongation and complete elastic recovery.
PROFESSIONAL QUALITY
Make sure your prototypes look, feel and perform like finished products. Get professional quality in your own office.
Request A Quote: 

 |

| (303) 466-0900
Full Brochure (PDF)