3D Printing Colorado is well equipped to help professionals leverage 3D Printed parts for use in real-world applications. If you have ordered 3D Prints in the past and want to jump directly to the RFQ Form please use this link. Request A Quote Form
If you are new to ordering 3D prints – don't worry – we make it easy! We are happy to answer your questions and will help you get the best print for your needed application.
What do I need to order 3D Printed Parts?
The process is easy and can be broken down into these steps.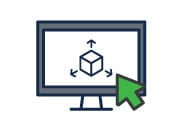 Step #1 – 3D Files: "What type of file do I need?"
To make a 3D Print we need a CAD file, aka a 3D File.
We have successfully printed from these file formats: STL, SLDPRT, PRT, SLDASM, CATPART, CATPRODUCT, IGS, IGES, STP, STEP, VDA, ASM, X_T, X_B, SAT, PAR, PSM, 3DX, WRL, and .3DS.
We can also work with: Parasolids®, ACIS®, SpaceClaim, Inventor, CATIA®, SolidWorks®, Pro/ENGINEER®, and 3DS Max files. 
Don't have a 3D file?  We can help, by using 3D scanning, Custom CAD Design, downloading existing files online, or a combo of these options are also great options for getting the files we need to complete your project. Call 303-466-0900 and ask for Matt Filkins to discuss CAD design for 3D Printing.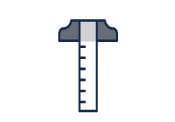 Step #2 – Determine Final Size: "How big or small can I print?"
We can print to your needed size. We have printed small projects with details as small as 1mm and we have 3D Printed many large format models both as single prints and large assemblies over 5 feet tall.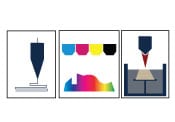 Step #3 – 3D Printing Technologies: "What are my 3D Printing options? What's the difference?"
We use a combination of all the top technologies to deliver our customers the best options for 3D Printing. The 3D Printing pros at 3D Printing Colorado can help you select the right Technology for your additive manufacturing project and provide quotes for multiple technologies to help you make the best choice.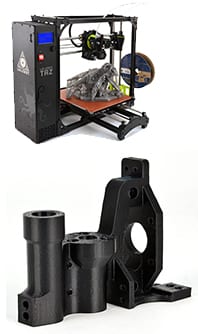 Fused Filament Fabrication (FFF) or Fused Deposition Modeling (FDM)
3D Printing Colorado runs a Hive of FFF printers and can produce 1 or 100's of parts for clients daily. These printers produce professional parts ready for real-world applications proving a 3D printer is as professional as the parts it is printing.
Materials used for FDM and FFF printing: ABS, PLA, HIPS, Nylon, PETG, NinjaFlex, Flex & SemiFlex by MakeShaper and more
Common Uses: Engineering Prototypes, Concept Models, and Functional Design Testing, Education, Makers, end-use parts, tooling, jigs, and fixtures
Do you need small to medium run manufacturing or bridge manufacturing? The Hive @ 3D Printing Colorado is ready to print 1 – 1000 parts for you today! Call 303-466-0900 for more info on our high-volume printing options.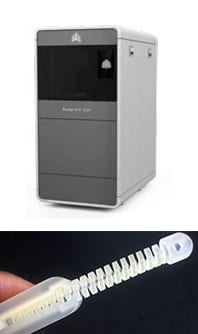 MultiJet Printing (MJP)
An inkjet printing process that uses piezo printhead technology to deposit either photocurable plastic resin or casting wax materials layer by layer. MJP is used to build Engineered parts, patterns, and molds with fine feature detail to address a wide range of applications. MJP printers offer the highest Z-direction resolution with layer thicknesses as low as 16 microns.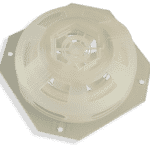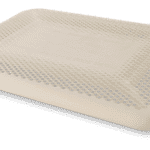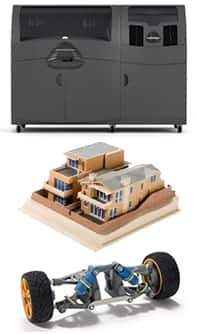 ColorJet Printing (CJP)
An additive manufacturing technology which involves two major components – core and binder.  The Core™ material is spread in thin layers over the build platform with a roller.  After each layer is spread, a color binder is selectively jetted from inkjet print heads, which causes the core to solidify. The build platform lowers with every subsequent layer which is spread and printed, resulting in a full-color three-dimensional model. Whether printed with color or in standard white, parts can be additionally clear coated to add a hard, smooth coating or wax coated to smooth out the surface finish.
Materials used for ColorJet Printing: Core™ material – a gypsum based material
Common Uses: Engineering Prototypes, Full-color concept models, Architectural models, Demonstration models, Highly complex geometries, Quick production times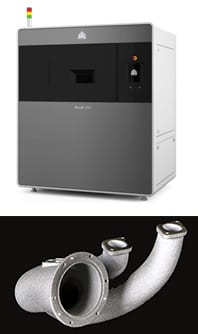 Selective Laser Sintering (SLS)
SLS uses a high-powered C02 laser to fuse small particles of powdered material to create 3-dimensional parts.  The laser selectively fuses powdered material by scanning X&Y cross-sections on the surface of a powder bed.  The model is built one layer at a time from supplied 3D CAD data. SLS printing can produce highly durable parts for real-world testing.
Tolerances for standard resolution:
X/Y planes: +/- .005" for the first inch, plus +/- .005" for every inch thereafter
Z plane: +/- .010" for the first inch, plus +/- .005" for every inch thereafter
Materials used for SLS Printing: impact-resistant engineering plastics; Nylon 11, Nylon 12, Glass-filled Nylon, Carbon-filled Nylon
Common Uses: Produce highly complex geometries, durable, high-heat and chemically resistant applications, Impact-resistant parts for rigorous use, Ideal for snap fits and living hinges, Low-volume production solutions, Major time and cost benefits, Large build platforms available, great for low- to mid-volume end-use parts, enclosures, snap-fit parts, automotive components, and thin-walled ducting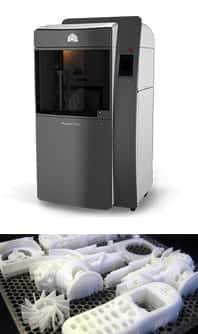 Stereolithography (SLA)
SLA is all about precision and accuracy, so it is often used where form, fit and assembly are critical. The tolerances on an SLA part are typically less than .05mm, and it offers the smoothest surface finish of any additive manufacturing process. Considering the level of quality SLA can achieve, it's particularly useful for creating highly precise casting patterns (e.g., for injection molding, casting and vacuum casting) as well as functional prototypes, presentation models, and for performing form and fit testing. SLA technology is extremely versatile and it can be used in any number of areas that require precision above all else.
Materials used for SLA Printing: ABS-like, Durable – PP-Like, Rigid – PC-Like, Semi-Flexible – PE-Like
Common Uses: Medical Device Manufacturing and Prototyping, Components, Electronics, Communications, Aerospace/Defense, Energy, Form, Fit & Function Testing, Tooling, Jigs, Fixtures, Master Patterns

Expanded SLA 3D Printing Services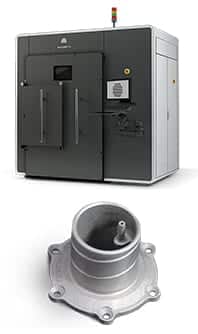 Direct Metal Printing (DMP)
An additive manufacturing technology that builds high-quality complex metal parts from 3D CAD data. A high precision laser is directed to metal powder particles to selectively build up thin horizontal metal layers one after the other. This cutting-edge technology allows for the production of metal parts with challenging geometries, not possible using traditional subtractive or casting technologies. A variety of functional metals are available to print designs, from prototypes to production series of up to 20,000 units.
Materials used for DMP Printing: Titanium (Ti6Al4V Grade 5), Stainless Steel (316L)
Common Uses: Perfect for complex metal parts that need to be manufactured quickly and accurately. Fully dense parts with an excellent surface finish.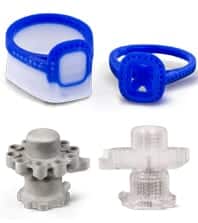 Wax & Castable Patterns
Investment casting has been successful in creating near net shapes for thousands of years. While the process has significant advantages, the high cost and time involved in the creation of tooling have limited the casting industry. We provide direct 3D printed casting patterns produced with rapid prototyping technology, allowing more designs to be cast without the initial time and cost of wax pattern tooling. Multiple 3D printing processes can be used to build investment casting patterns.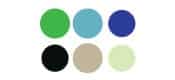 Step #4 – Material – "What Material can I 3D Print In?"
There are now over 200 materials available for 3D Printing and additive manufacturing! Strength, Flexibility, Shape memory, UV resistance, and cost are a few of the common variables for selecting the right material for your project. We are happy to help you select a great material that best fits your needs. 
Step #5 – Timeline/Payment – "When will my parts be done and what will they cost?"
After sending us your files and details about your 3D Print we can create a free quote for you. If you want to move forward and the timeline and cost fit your needs then we lock in the job and print your files!
Get Started Now!  Request A Quote Form
---
Use the RFQ form to get the conversation started or feel free to call us at 303-466-0900 for more info.
---
Other FAQ's about On-Demand 3D Printing
Can you make my file and print it for me?
Yes! If you have an idea or concept and need/want it 3D printed we can work with you to design the 3D Files so your concept can be printed and used for testing and beyond.
My 3D Prints are going to change the world – will you sign an NDA to protect my IP?
We have no problem signing an NDA to protect your concepts and ideas.
I read the above info and still want help. Which Technology Should I Use?
Do you need help determining and selecting the best additive manufacturing process for your parts?  Give us a call at (303) 466-0900 or use the contact form to get the conversation started.  We have helped many different companies understand additive manufacturing process and we can help you print the parts you need on time and on budget!
---

Quick and Easy Quotes – within 24 hrs:
Proven Processes

Professional Equipment & Materials

Competitive Quotes

Dedicated 3D Printing Specialist & Applications Engineer Assigned to Your Account
True to CAD Accuracy
New Client Discounts
Free Benchmark Prints for High-Volume Clients
---
If you have any questions about the 3D Printing services at 3D printing Colorado please call 303.466.0900 and talk to Matt Filkins or Nick Yosha.
If you are in a bind and need your parts printed "YESTERDAY!", we might be able to help – give us a call or email. If we can fit your parts onto a build plate to hit your deadline – we will, and have for clients in the past.  For "rush" or "emergency" orders, a phone call is the fastest way to get a hold of us:
---
Accepted File Formats for Instant Quoting:
STL,  SLDPRT,  PRT,  SLDASM,  CATPART,  CATPRODUCT,  IGS,  IGES,  STP,  STEP,  VDA,  ASM,  X_T,  X_B,  SAT,  PAR,  PSM,  3DX,  WRL
3D Printing Colorado Supported File Formats: Contact us for help with file conversions
SpaceClaim,  Inventor,  CATIA®,  SolidWorks®,  Pro/ENGINEER®  and 3DS Max,  Parasolids®,  ACIS®, STL,  SLDPRT,  PRT,  SLDASM,  CATPART,  CATPRODUCT,  IGS,  IGES,  STP,  STEP,  VDA,  ASM, X_T,  X_B,  SAT,  PAR,  PSM,  3DX,  WRL
---
For more info: Matt Filkins | 3D Printing Specialist Laser Concepts, Inc. (303) 466-0900 | Contact Form